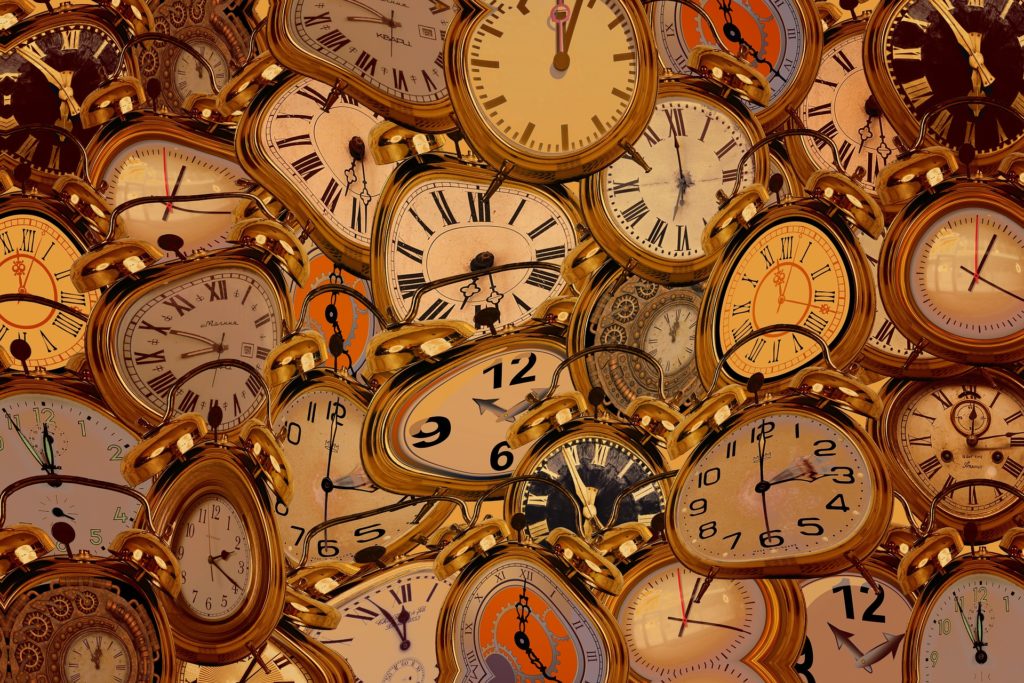 Stephen Covey, author of The 7 Habits of Highly Effective People, states that "Time management is a misnomer, the challenge is manage ourselves." Yet, we have this obsession to learn "time management?"  Time is a commodity.  How do you spend time?  Can you make time? When the day is done, what have you accomplished?  We can't get it back.  That ship has sailed.  Did you feel good about what you do did today?
We often hear ourselves, or others, say, "I don't have time." What then, do we have?
We have too many commitments, too many choices, too much food, substances and distractions.  We can't decide.  We can't say no.  We can't diet.  We can't quit habits that aren't good for us.  And, we don't accomplish the tasks and goals that we hoped.
Maybe we can't manage time, but we can work at managing all the components of our lives and manage ourselves.  We can plan ahead, budget our time, set a target and commit to a schedule  like you would a vacation.  We can select a task, set a timer and accomplish a small assignment.  We can break down a large project into small pieces, and little by little, whittle away at it.
We can manage our expectations, set boundaries, and learn about planning and estimating.  We can examine our schedules, write down our priorities and schedule them.
How do you handle interruptions?  Do you get caught up in major distractions?  Do you try to start too many things at once, and end up finishing nothing?  Do others' priorities absorb your day?  Have you examined ways to make your life easier? Can you delegate a task to someone able, willing and mutually accountable?
Learn about how you approach new things.  Do you instinctively jump in like a bull in a china closet, or procrastinate until you find the perfect way to do it?  Linda Sapadin's book, It's About Time: The 6 Styles of Procrastination and How to Overcome Them is eye opening and life changing.
Stuff happens….emergencies, illness, demands of others.  But, we can't abandon our dreams.  We must get back on track, and schedule our priorities.
Let's recap how we can manage ourselves by learning about:
How we spend time and handle interruptions
Setting boundaries: physical, mental and emotional
Focusing
Budgeting
Planning
Estimating
Scheduling
Setting goals and priorities
Delegating
Avoiding multitasking
Managing distractions
Managing expectations
Managing lists
Plato said "the beginning is the most important part of the work."  Let's begin.
Do you want to learn more about time and managing yourself, contact me.